Click here to view the History presentation of the Villa des Arts.
(Flash - 598k)

Villa des Arts Liliane Bruneau coexists with the well-known Boutique Liliane Bruneau. This gallery is in itself an innovative and original concept where art and fashion meet.

Villa des Arts Liliane Bruneau expanded its horizons and added a new pavilion to its art gallery. By the end of July 2004, it more than doubled its surface area and now hosts several cultural and community events.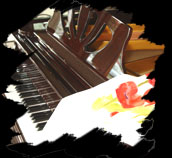 Since celebrating the expansion of Villa des Arts, there has been a succession of vernissages showcasing artists in the field of visual arts, concerts, evenings featuring up-and-coming artists, painting workshops and fashion shows. All the arts are represented.